1000m Drone Signal Jammer Uav Signal Blocker Anti-Drone Radio Frequencys Uav Quadcopters Signal Scrambler
Product Description

TSj-DR04 Handhold Drone Signal Jammer Portable UAV Wireless Blockers GPS, WiFi 2.4G, WiFi 5.8g Signal Killer
Specification:
Key technical specification: TSj-DR04

Channel

Output Port

America Frequency

Average out-putting power

1

1.5G(GPS)

1580-1620MHz

40 dBm

2

2.4G

2400-2460MHz

40 dBm

3

5.8G

5720-5850MHz

37 dBm

Total 25W, jammer signal 500-1000meters
Power supply mode

Out battery: 24V, 3500mAh;
Or External battery

Battery working time

45-70 minutes

Working temperature

-20℃ to +55℃

Power consumption

55W

Weight

2KG , Packing Weight:3.6KG

Size

277X80X51mm

Panel Antenna

10dBi Gain
| | | | |
| --- | --- | --- | --- |
| Name | Portable Gun Shape Jammer | Power Supply | External battery DC24V/3500mA |
| Model | TX-Q-03 | Battery Life | 45-70 mins |
| Brand | TXtelsig | Work Reaction Time | 3-5s |
| Jamming Radius | 500-1000m | Temperature | -40℃~70℃ |
| Jamming Signal | GPS,WiFi 2.4g 5.8g | Size | 340*185*47mm |
| Output | 25W | Jammer Wight | 1kg, |
| Power Consumption | 55W | Battery Wight | 0.8kg |
Channel

Status

Result

2

.4G/5.8G

ON

Drone

fored

return
G

PS

O

FF

2

.4G/5.8G

OFF

Drone

in

Pose

Mode
G

PS

ON

2

.4G/5.8G

ON

Drone

will

be

forced

landing
G

PS

ON
We could supply customized service by your detail requirements about frequencies setting
Portable Gun shape UAV jammer
TSj-DR04 gun shape handhold drone jammer has the advantages of light weight and portability, and the power of 25W can easily solve the ordinary drone in the visible range. The external battery is hangable for easy to carry and has an LCD display to know the battery electricity clearly and get ready anytime. The main jamming signals are Wifi 2.4g WiFi 5.8g and GPS (1.5g). There is no adverse effect on the signal around the mobile communication, base station,automobile remote control, police radar and other civilian facilities.
Features
1. Hand-held portable gun design, easy to operate with one hand
2. The shielding distance up to1000m and the drone in the visible range can be easily solved.
3. Fast response only 3 seconds need, for forced landing or returning 20s is enough
4. The external battery can be hanging on the belted, easy to take
5. With power display clearly knows the state of the battery for ready the counter-time
Why Are Drone Jammers Needed?
(1) Consumer and commercial drones come a dizzying array of shape, size, characteristics, features, and prices.That means that drones can also be employed for a huge range of illegal uses including:
(2) Carrying bombs and other terrorist threatsUse as biological weapon

Illegal surveillance

(3) Drone swarms overwhelming a facility

(4) Interfere with emergency responders

(5) Interfere with manned aircraft or airports

(6) Smuggling contraband into prisons or across borders

(7) Hacking into sources such as data centers




What will be happen?

(1) Multiple drone incidents at Airport, Airport drone recording incidents of drones near passenger planes.

(2) Drones dropping weapons, escape kits, drugs and mobile phones into prison, assisting prisoners to escape, and smuggling drugs into prison.

(3) Drones used by fans to get illegal spoilers for TV or film series.

(4) Drones used by paparazzi for celebrities' privacy invasion.

(5) Drones used to detect and record technical and business confidential of the supplier.
Application:
Mainly Applied To Prisons, Airports, Scientific Research Centers, Detention Houses, Interrogation Rooms, Courthouses, Labor Camp, All Kinds Of Military Important Places, Forbid Aerial Photography By Use Of Drone, Etc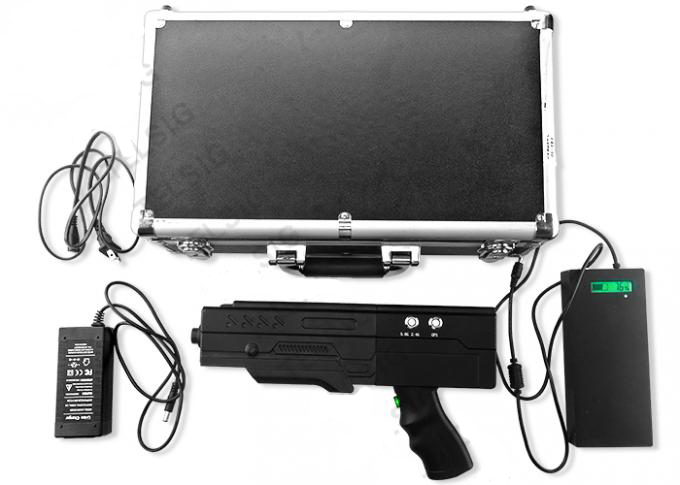 Specification:

Large Jamming Range: 500-1000 Meter,Battery working time 45-70 minutes,Power supply mode Out battery: 24V, 3500mAh; Or External battery,Weight 2KG , Packing Weight:3.6KG,Size 277X80X51mm
Recent Reviews ( 3 )
ByAbdullah SariMonday, 13 July 2020
Received everything as in the description, easy to control their drone. Thank you to the seller
Byvagn seldrupSaturday, 11 July 2020
Just tested this jammer, so useful
Byyakup taşkıranSaturday, 04 July 2020
delivery 14 days, everything is OK. Thanks seller

Your cart is currently empty.